What Are State Guards Really Like?
Published: Sep 17, 2022
Updated: Sep 23, 2022
Florida governor Ron DeSantis's move to reestablish the Florida State Guard became a national story leading to partisan reactions.
CNN's headline read: "DeSantis proposes a new civilian military force in Florida that he would control."
The first sentence of the artice states "that he [DeSantis], not the Pentagon, would control" this "civilian military force."
Well, yes, that is how state guards work: the commander-in-chief is the governor. State guards operate under the military laws of the state they are based in. And they're authorized by Congress. The Pentagon doesn't control state guards.
Reconstitution of a state guard would be a low-priority - even boring - news story, but a stream of sensationalism followed with claims that DeSantis wanted a private army in order to do ominous things. I admit I fell for the clickbait myself! ("He wants what?" -click- "Oh! It's just a story about reconstituting a state guard!")
Following the news, current and former elected officials and candidates took to Twitter comparing the prosposed state guard with "hand-picked secret police" that a "wannabe dictator" would turn into "his own vigilante militia like we've seen in Cuba."
Since I previously served in Virgina's state guard (called the Virginia Defense Force) I thought I'd share what it was like.
I joined the state guard #
I was invited to consider joining by a retired Marine officer. I had actually never heard of the state guard before that conversation.
After seeing the photos of VDF folks wading through chest-deep water and engaged in light search-and-rescue drills, joining seemed like a fun (and adventurous) way to get involved in the community. So to learn more I attended a local meeting of Fairfax County's Alpha Company, part of the Blackhorse Brigade.
The folks there were warm and welcoming and Alpha's captain was instantly likeable, a military vet, and natural leader. I decided to join, and took the pledge.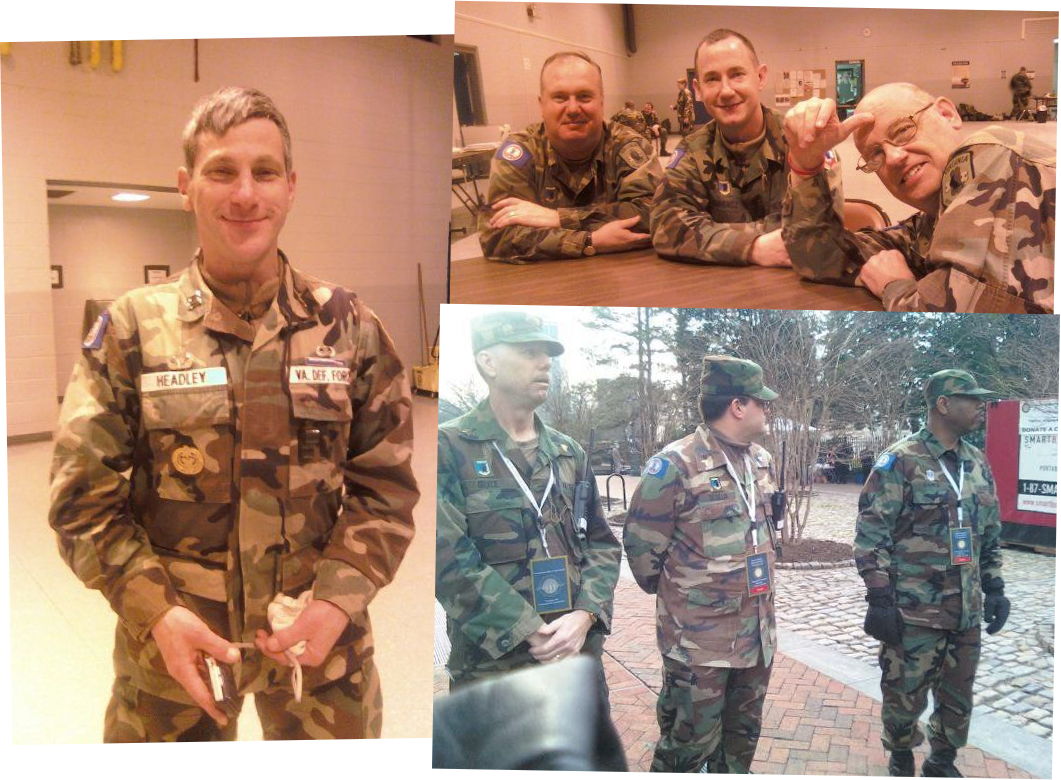 Above: Top two photos: Some of my Alpha Company colleagues (my captain is at left) during a training event we did at a National Guard facility. Bottom right: We're on active duty in Richmond.
What's the state guard mission? #
The state guard provides support services to the National Guard so that it can focus on urgent priorities. The VDF's mission is humanitarian: It's the all-volunteer reserve of the Virginia National Guard, and is designed to supplement the VNG's in-state emergency and disaster response.
Unlike the National Guard service, you can quit, for any reason, at any time. But you are asked to serve for a given time frame (such as 3 years), which varies depending on the state.
What did you do? #
We did regular classroom training, online training, military drills, and outdoor training.
This included:
Extensive FEMA training, particularly in how multiple agencies interface in an emergency, including staging details. (I was impressed by how well-designed this approach is.)
Medical/first-aid training.
Emergency responder training for many types of disasters.
Some volunteers trained in light search-and-rescue with aircraft and boats. (The latter were part of a "riverine detachment.") Some specialized in electronic communications.
A typical Alpha Company training weekend might be doing an all-nighter in sub-zero temps and high winds to learn how to guard an armory in shifts, and communicate effectively, with no one ever abandoning their post.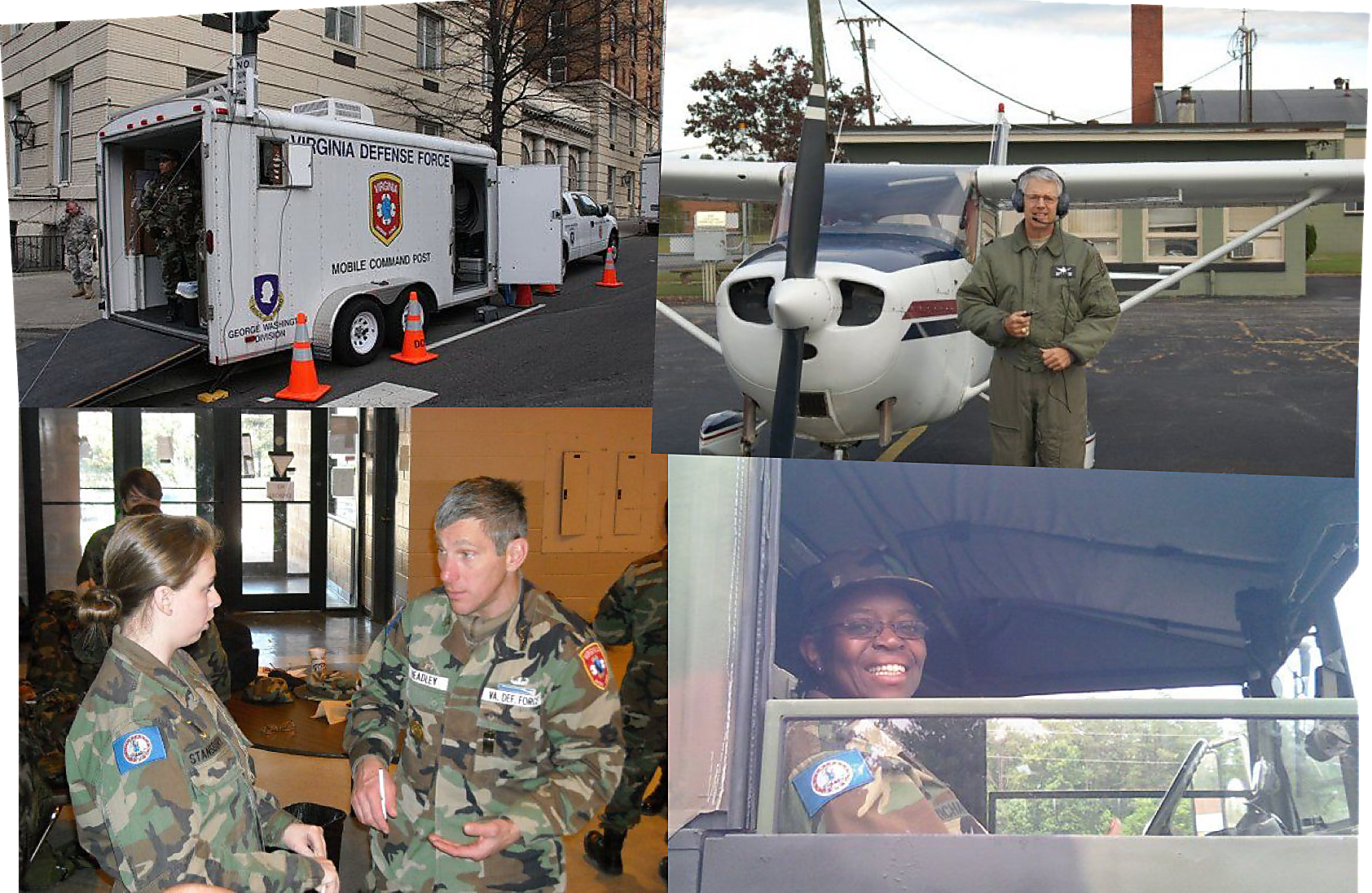 Lower left: Our captain speaks with an Alpha company colleague who went on to join the U.S. Air Force where she still serves. Lower right: The cheerful sergeant who led us in our Leadership Reaction Course.
What else does the state guard do? #
The state guard is on call during disasters to provide humanitarian relief. This includes setting up (and managing) emergency shelters, providing basic first aid, and handling logistics for supplies.
They may transport, unload, and set up cots, bedding, food and water. They may also direct traffic at chokepoints.
The Virginia Defense Force (VDF) was trained to set up mobile communications units for in-state National Guard deployments. This frees up some of the National Guard's time.
In advance of weather emergencies, such as severe winter storms, state guard troops may travel hundreds of miles to load and transport equipment. This includes radio communications devices, chainsaws, state fuel cards, and food – which are delivered to National Guard staging areas.
During the height of the COVID-19 pandemic,
State Guard troops performed many of the same pandemic missions as National Guard soldiers and airmen. They distributed food, vaccines and protective equipment; administered tests; screened people entering medical facilities; decontaminated personnel and facilities; helped process unemployment claims; and staffed mortuary trailers at hospitals.
Once activated, you have to be ready to show up within a narrow time frame with all of your gear.
Capabilities vary between states #
The skillsets of state guards vary from state to state.
For example:
The California State Guard has a team that responds to wildfires and assists with evacuations.
The Texas State Guard has recruited quite a number of doctors, nurses, and other medical professionals – enough to staff a medical brigade and provide free clinics to the public.

Those services include "primary medical care, dental care, and even free eye examinations and glasses." In one week alone they provided "42,000 services to over 9,000 people."
The medical unit does of course also provide medical services during emergencies - e.g., on site at hurricane shelters and they were active in the state's COVID-19 response

The VDF has a cybersecurity unit that supports the National Guard's efforts in protecting the infrastructure of the Commonwealth.
Particular skillset areas tend to grow in state guards as members invite colleagues to join.
Supporting National Guard families #
The state guard also provides support services to spouses of National Guard troops deployed overseas.
This might be as simple as checking in to see if they need assistance with anything, such as getting a car fixed or getting something delivered.
This is intended as a morale boost to National Guard troops and is a natural part of the military culture of loyalty.
Did you wear a uniform? #
Yes, state guard members do wear a military uniform. (A dress uniform – for public events – was optional.)
As a volunteer, you have to purchase your own gear, including the right kind of winter parka, belts, tees and boots. You have a list of other items to obtain, such as a sleeping bag and duffel bag, but you can use items you already own.
I learned that GI "polyprop" longjohns – with the turtleneck tops – are the best for staying warm in sub-zero conditions! (I also learned to never put them in the dryer. They actually melt into hard plastic!)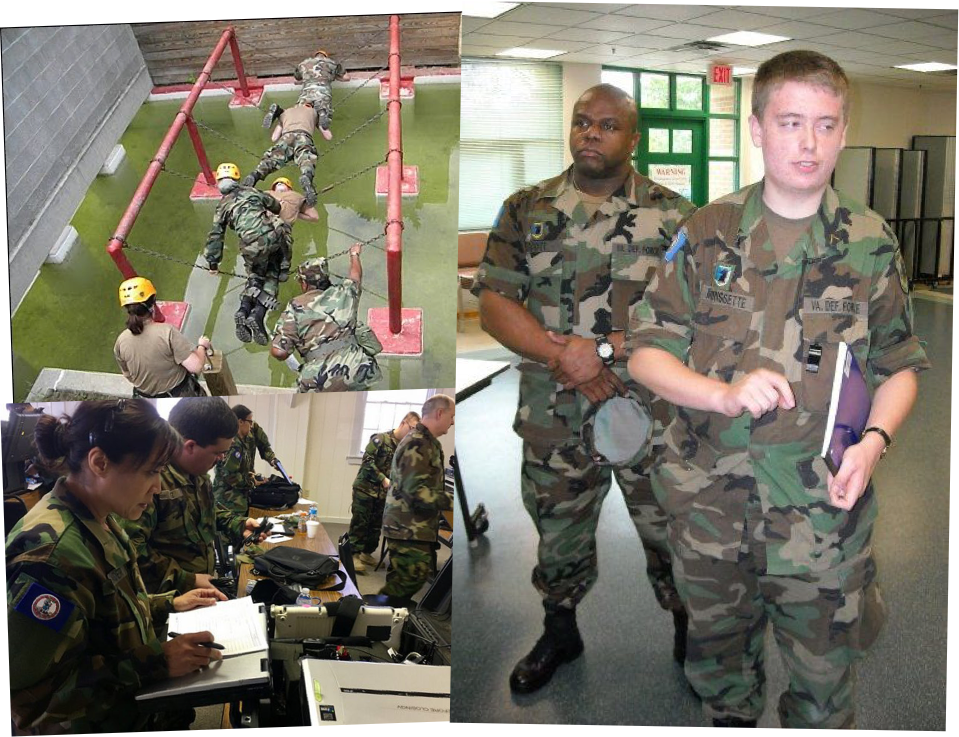 VDF training. I'm at lower left in the first photo which was taken at the Leadership Reaction Course. At far right: an Alpha company colleague (nicknamed "Cottonball") who went on to serve full-time in the U.S. military.
Was that a paid position? #
It's a volunteer position, meaning you only get paid when on active duty. The pay is in the form of a modest daily stipend.
The vast majority of your time is spent in training and that is unpaid.
Pros? Cons? #
Some pros:
I met very interesting people and enjoyed most of the activities. It was an adventure.
Everyone had a can-do attitude, was welcoming, and wanted to make a difference in the community
I learned a lot including from military veterans.
You'll come away with a better understanding (and appreciation) of how local, state, regional, and federal entities work together in an emergency to protect citizens – and of course, you're participating in this process.
A few quibbles:
Military jargon and acronyms made understanding even basic documents difficult.
We got called on for traffic control; something I didn't particularly care for. (In crowded circumstances, members of the public are not always amenable to "stop" or "wait" directions.)
Would you change anything? #
I wonder whether military uniforms are necessary or ideal for the state guard. The view of the military however is that State Defense Forces (SDFs), operating "under the protocol of military guidance and customs . . . are less likely to walk away from assigned missions and are more likely to integrate well with the National Guard units that are given those missions." And it's true that the state guard is the "reserve" for the National Guard.
In sum #
I'm glad I joined the Virgina Defense Force and really enjoyed my time there. We had an interesting mix of people in our company from all types of backgrounds.
Some worked at the State Department and Department of Defense. Others were logistics professionals or young adults looking for experience before joining the U.S. Army, Navy or Air Force. We had former military members as well as folks simply interested in helping out. And we had good foreign language capability in our company – including native speakers and professional translators.
If you're curious about joining a state guard I encourage you to attend a meeting of your local company. Simply go to your state guard's website and to get information on where and when they are meeting. Members of the public who are interested in joining can freely sit in.
Americans are known for their generosity – including in public service. Serving in the state guard is one of many ways you can work with your neighbors to improve your community.

Related #
A 'ticking time bomb': Florida Lawmakers plan to address National Guard troop shortage
This article covers bipartisan concern among Florida lawmakers about insufficient numbers of National Guard troops available to assist in disasters.
9/22: Florida deploys National Guard to assist law enforcement due to "a severe shortage of correctional officers"
State Defense Force Monogaph Series: Homeland Security A glimpse into the view that SDFs are an essential fallback force in the event the National Guard is deployed extensively overseas.