Electricity hike of 112% highlights New England energy design flaws
Published: Jul 24, 2022
Updated: Jul 29, 2022
Our local electricity provider Eversource has received an approval for a 112% increase in energy supply costs charged to consumers. This was first reported by media in June, which warned of "drastic increases" in bills.
Increased costs of natural gas were a main factor cited.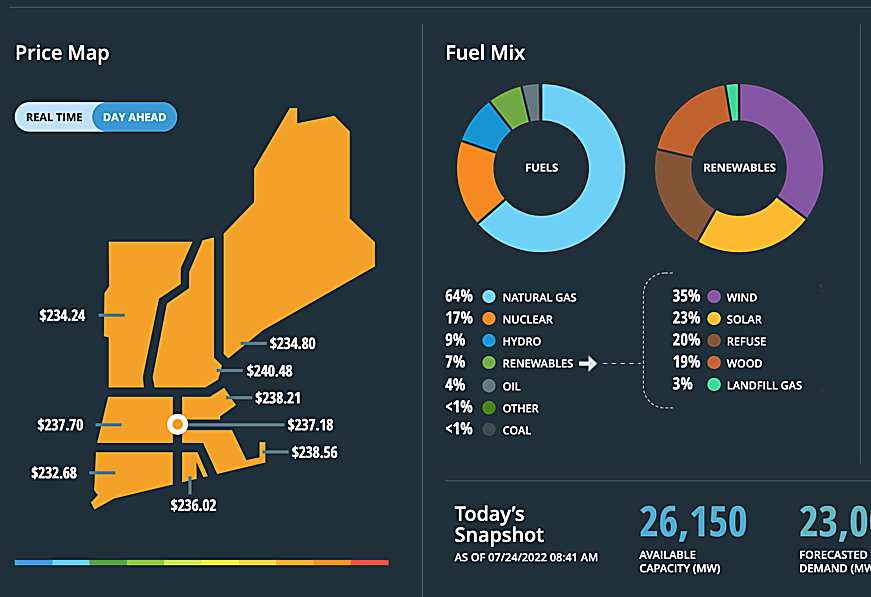 Above: a screengrab of ISO New England's dashboard, showing natgas currently accounting for 64% of electricity production.
New England seems to suffer from poor (and short-sighted) energy design. (To be clear, this is not Eversource's fault.)
Some snapshots:
We're adjacent to one of the most natural gas-rich regions (the Appalachian Basin) but for lack of pipelines/capacity we can't get adequate amounts delivered here.
Because of the archaic Jones Act, we can't ship U.S.-produced LNG (liquified natural gas) from American ports to our terminals.
As a result we're dependent on importing LNG from foreign countries – a process which burns more fossil fuels. And we burn "dirtier" oil as winter temperatures plunge.
Boston Harbor's Everett Marine Terminal imported 60% of its LNG in 2020. Historically it's sourced LNG from Norway, Peru, Trinidad and Tobago, and Russia. (Massachussetts relies on natgas for two-thirds of its electricity needs.)
Maine voters scuttled renewable energy plans for electricity transmission lines carrying hydro power into New England from Quebec. (A similar proposal was previously rejected by New Hampshire voters.)
Why the Jones Act has not already been nixed is puzzling. Here's a passage from the Doomberg Substack that highlights the problems:
A key stipulation of the law is that foreign-owned ships cannot transport goods between two US ports – only ships built, owned, and crewed by Americans are permitted to do so. While the US has become the largest producer of natural gas and an ever-larger exporter of LNG, the country does not produce LNG carriers. Since there are no US LNG carriers, New England cannot benefit from the build-out of LNG export facilities along the Gulf of Mexico, despite having significant LNG import facilities like the one in Everett, Massachusetts.
That means New England is in the same bidding pool as Europe and Asia. Amazingly . . . Instead of simply building pipelines to its land neighbors, New England pays for boats to sail more than 2,000 miles – burning fossil fuels and polluting the oceans as they do so – and pays a substantially higher price for the privilege. Bonkers!
Being in the same bidding pool as Europe and Asia means we're subject to the LNG shortages and soaring prices there.
Time to stock up on firewood + seal those cracks.
Related #
New Hampshire residents warned of 'drastic increases' in electricity bills
WMUR
Global LNG Competition Intensifies on New Russia Supply Cut: Asian LNG prices heading to highest level since war started
Bloomberg
How the Ukraine war could make New Englanders shiver
E&E News Climatewire
Maine voters reject transmission line that would bring clean energy to Mass
Boston Globe
France's GTT
GTT's Mark III membrane technology is impressive. Interestingly, it can also be applied to ships using LNG as marine fuel.
Per Reuters, spot rates for LNG carriers soared in June to $100k/day for the Atlantic basin. A previous historic high of $350k/day was reached in 2021.